Tapping units – the optimum system for every application

With our two tapping units, the S-Former Z and S-Former E, you can create top-quality threads in your stamping and bending processes. Different versions and system variants are available to suit a range of applications. The S-Former is integrated into the punching and bending tool and is process-optimised. Compared to a subsequent, non-integrated tapping process, you can significantly increase part quality, process reliability and efficiency in production.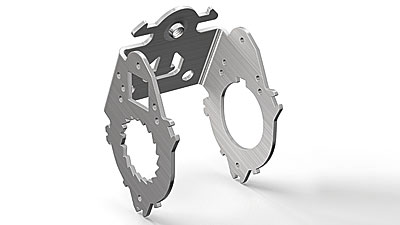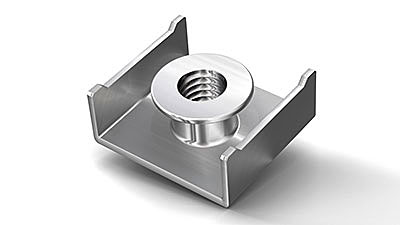 Best quality with maximum profitability
When tapping, the grain structure of the metal is not interrupted (unlike when thread cutting), so there is no swarf accumulation during production. Formed threads have
maximum tensile strength and stability, resulting in higher tensile strength capacity and durability
a smooth, burr-free surface qualit. This simplifies installation, reduces corrosion and prevents galling of cut threads.
Process-integrated tapping involves the integration of the tapping unit into the punching and bending tool. The forming process is faster and the lifetime of a roll tap is longer than that of a thread cutter. As such, all production takes place in one tool, which shortens through-put times and reduces both handing times and the workload.
S-Former Z
The S-Former Z is our all-mechanical solution for process-integrated tapping
It is driven by means of a press stroke and no electrical installation is required. Direct mechanical coupling means that it runs 100% in sync with the tool and does not require an external control unit.
The S-Former Z can be adjusted to Specific processes and tools with little effort.
Simple and reliable
The linear stroke movement of the press is converted into a rotation movement via a gear rod-sprocket pairing. This is translated in the gear to the required rotation speed and transmitted via a Cardan shaft to the compact tapping unit. There, a lead screw rotates equally with the tap (equal pitch) and drives it into the part.
The tapping unit can be positioned at virtually any angle in the tool, which makes the S-Former Z very flexible and the production of complex parts possible. Thanks to the Cardan shaft, assembly can also be carried out on the moved blank holder plate independent of tolerances. The robust, precise design of the S-Former Z, which boasts an extended lifetime, makes it out from the crowd. Maintenance expenses are kept to a minimum as the tapping unit only needs to be lubricated. This makes the S-Former Z one component in your tool that you can rely on in the long term.
With its compact design configuration and flexible adaptation possibilities, the S-Former Z can be easily reused in multiple production series and integrated into existing tools. Combined with an extended lifetime, this leads to low amortisation costs.
Services as tailored as our technology
The S-Former Z is configured by our experts in terms of adjustments to the gear rod, gear, Cardan shaft and lead screw to tailor it to your order. We address all relevant features of you tool (stroke, press speed…) and product (material, pitch, thread size…) alike so as to achieve the highest levels of quality and productivity.
S-Former E
The electric S-Former E comprises a tapping unit, servodrive and PLC unit. This can control up to four tapping units at once and monitor these on an ongoing basis, which ensures top thread quality and 100% process safety. The S-Former E is therefore suitable for the defect-free production of safety-relevant parts.
The S-Former E can also be operated as an independent production unit.
Impressively flexible and convenient
The S-Former E offers four tapping units for different thread sizes:
S-Former E
E0
E1
E2
E3
Ø thread [mm]
1-4
4-8
8-16
8-26
Rotation speed [1/min]
Up to

5,000

Up to

2,500

Up to

2,000

Up to

1,000
The tapping units heads are driven by powerful servodrives with up to 2.25 kW (400 V).
The high torques and rotation speeds, as well as the steep acceleration curves, enable the number of cycles to reach up to 160 strokes per minute.
Generous performance reserves prevent over heating of the motors.
The tap moves pneumatically on the tool within split seconds, the pitch being defined by the tap, which pulls itself into the part. In this way, the forming process is free from axial forces, which maximises the lifetime of the tap. Rotation speed and acceleration are regulated by the control unit and can be freely adjusted as required to match your tools and processes. As the drive of the S-Former E is fully independent from the tool and press, it can be easily removed from one tool and installed in another and is ready to use again in a few simple steps.
Irrespective of size (E0, E1, E2, E3), up to four tapping units can be controlled by a control unit. Up to 50 freely configurable programs can be saved for each tap connection so that the change from one production series to the next can be made without any time delay. The clear, multilingual menu instructions and large 12″ touch display display comfortably guides the operator through all relevant menus, offering all important system information prepared in an understandable manner.
Absolute process Reliability

In preparation for process monitoring, the torque curve is recorded and averaged in several cycles with an optimal system function using the teach-in process. By manually defining non-critical tolerance ranges, an envelope is calculated and shown graphically on the colour display.
During production, the torque curve is constantly measured and compared with the envelope. After each successful cycle in which the torque curve lies within the envelope, the PLC sends a signal to the press control unit and the next feed begins. However, if it is outside the envelope, the press control unit receives no signal. Production is stopped and the cause of error (e.g. worn tap, incorrect position of the part in the tool, punched hole too large or too small, etc.) can be fixed. This ensures that no part with a defective thread leaves your production. The data can be visualised on the display at any time, including during operation, before being output and further processed as part of process and quality assurance (proof of defect-free production).
Optimise your processes with our know-how

The high flexibility of the S-Former E has a lot to offer in terms of process optimisation. Take advantage of our expert know-how to make your production even more efficient, your tools even more reliable and your products even better. From the basic tool concept through to optimum S-Former process integration – we support you every step of the way.